Area Voices: Women in Leadership & Politics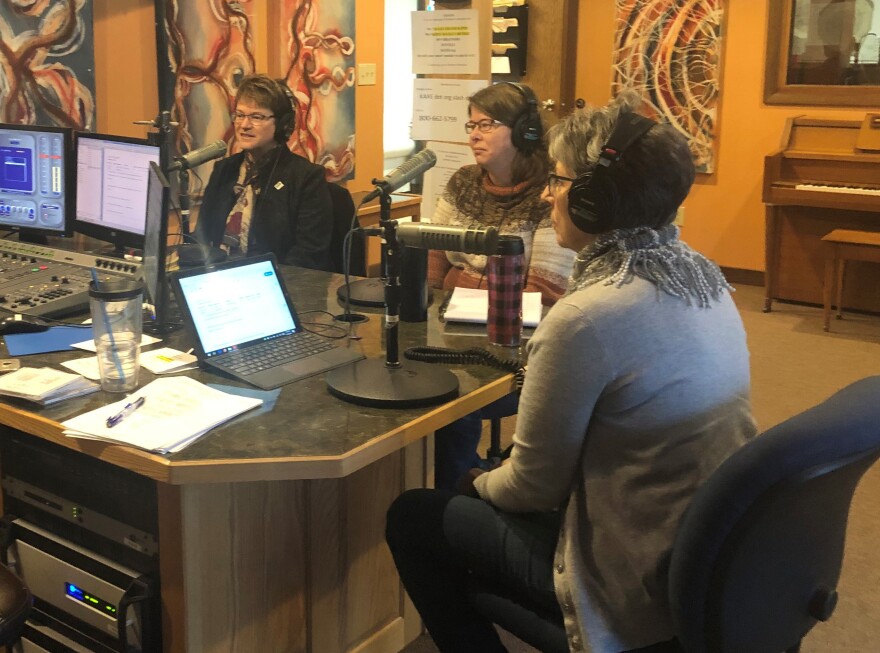 ...Emelie didn't think about running for office until someone said to her, "you should run for office. You're very passionate about these issues."...she's got a very good voice around equity. And people saw that value that she could bring to the table and so they encouraged her to run…. The same was true of Faith with her path. And I would also say that is true of me that people encouraged… and said, " You need to run for mayor we want you to run for mayor." – Bemidji Mayor Rita Albrecht on women's paths to leadership positions.
Whether it begins by volunteering on local boards and commissions, working as an officer in the navy, teaching at the college level, or simply having a passion for improving the community in which one lives, the road to public service and leadership presents a different journey for every individual. Historically, women have been under-represented in many leadership capacities from the national level to local board rooms. That said, an undeniable shift is occurring. And it's been nearly 200 years in the making.
Women fought for nearly 100 years before the 19th Amendment of the Unites States Constitution was finally ratified granting women the right to vote in August of 1920. While a huge milestone, the women's right to vote did not reach every woman at that time. The 19th Amendment did not guarantee voting rights to all women. Native American women could not vote in all states until 1962 and it wasn't until the Voting Rights Act was passed in 1965, that African American, Hispanic American and other minority women were officially allowed to exercise their right to vote across the United States.
Nearly 100 years after the initial 19th Amendment ratification, in the 2018 elections, women positioned themselves in local and national elections more than ever before. They broke records of both running for office and winning those elections across the country. Women of color were represented in elections more than ever before.
In celebration of the 100th anniversary of women's suffrage and the changes it has inspired, the Beltrami Historical Society, League of Women Voters and the Bemidji Public Library recently hosted a "Women in Politics" panel discussion featuring several women from the Bemidji area who hold leadership roles in politics and beyond. Three of those panelists, President of Bemidji State University and Northwest Technical College Dr. Faith Hensrud, Bemidji Mayor Rita Albrecht and Bemidji City Councilwoman Emelie Rivera stopped by the morning show and discussed a variety of topics related to their paths to leadership positions, the impact of mentors, navigating obstacles and much more.
We are not well represented across the country in state legislatures. We're not well represented across the state in Mayor roles. I am in the Minnesota Association of Mayors and there aren't that many women around the table and I recognize that even at the local level – township, county, cities - we do not have a lot of women represented. And so and that's often a place where women can get a foothold in order to run for higher office. And so encouraging those school board township and municipalities counties to elect women I think is one way to bring that diversity into our state legislatures. - Bemidji Mayor Rita Albrecht
It's also a trend that we see in higher education across the nation. Only 30 percent of presidents are women. And Minnesota is doing better than that in our public higher education we have over 50 percent of our presidents or chancellors that are women. So there's a lot of work to be done in that regard. And it's really as Rita said it's about encouraging younger people to start thinking about these roles in the future and then gaining experiences to help them become eligible and to get become visible so that they can make a run for any of the positions. BSU & NTC President Dr. Faith Hensrud
What I think we forget a lot of times is that there are so many more offices that are on that ballot that are, for our day to day life, probably more important than that presidential vote. Who is going to represent me in this town? Who is going to represent me in my county? Who's going to represent me at St. Paul? Those are very important to what happens to us directly. - Bemidji City Councilwoman Emelie Rivera