Originally published on December 13, 2019 8:33 pm
It was almost dark when Shalom LeBaron reached the spot where her daughter, Rhonita Miller LeBaron, and four grandchildren were killed. LeBaron found the remains of her 10-year-old granddaughter in the back seat of a car that had been riddled with bullets and set on fire earlier that morning.
"Facedown, crunched up in fetal position because she was so afraid," LeBaron said through tears in an interview with NPR. "That's how her bones were found."
It's been a month since the brutal massacre of nine women and children in northern Mexico. They were all dual U.S.-Mexican citizens and members of the extended LeBaron family.
Since then, that family has been on a mission: Urging the U.S. government to get more involved in the fight against drug cartels, which have been blamed for gruesome violence across Mexico — including the attack on the LeBaron family.
"It's hard for the Mexican government to compete with that kind of finance, that kind of firepower," said Bryan LeBaron, a cousin of the victims who lives in Utah. "This is going to take an international response or we have no hope."
The LeBaron family came to Washington this week to lobby members of Congress. The family wants the U.S. government to designate drug cartels as terrorist organizations. That would give the U.S. government more tools to fight them and could clear the way for the U.S. to send troops or drones into Mexico.
Members of the LeBaron family have been living in northern Mexico for generations, since they split from the Church of Jesus Christ of Latter-day Saints, though they still consider themselves Mormon. They live in an area near the U.S.-Mexico border that is a major corridor for drug trafficking.
Family members saw the growing violence around them, says Rhonita's sister, Adriana Jones. But nothing could have prepared them for what happened.
"There was this idea that our innocence would protect us. That somehow, because we were so completely uninvolved in any of it, that we were safe," she said.
Jones remembers arguing with her husband about whether it was safe for her to drive alone or with her children in the area. At the time, Jones dismissed his concerns. "'Nobody's going to mess with a mom and five children. Who would do such a thing?'" she remembers asking.
"Yes stuff was going on around us. But no, we never could have imagined the brutality of what happened to my sister and her four children. Never in a thousand years," she said.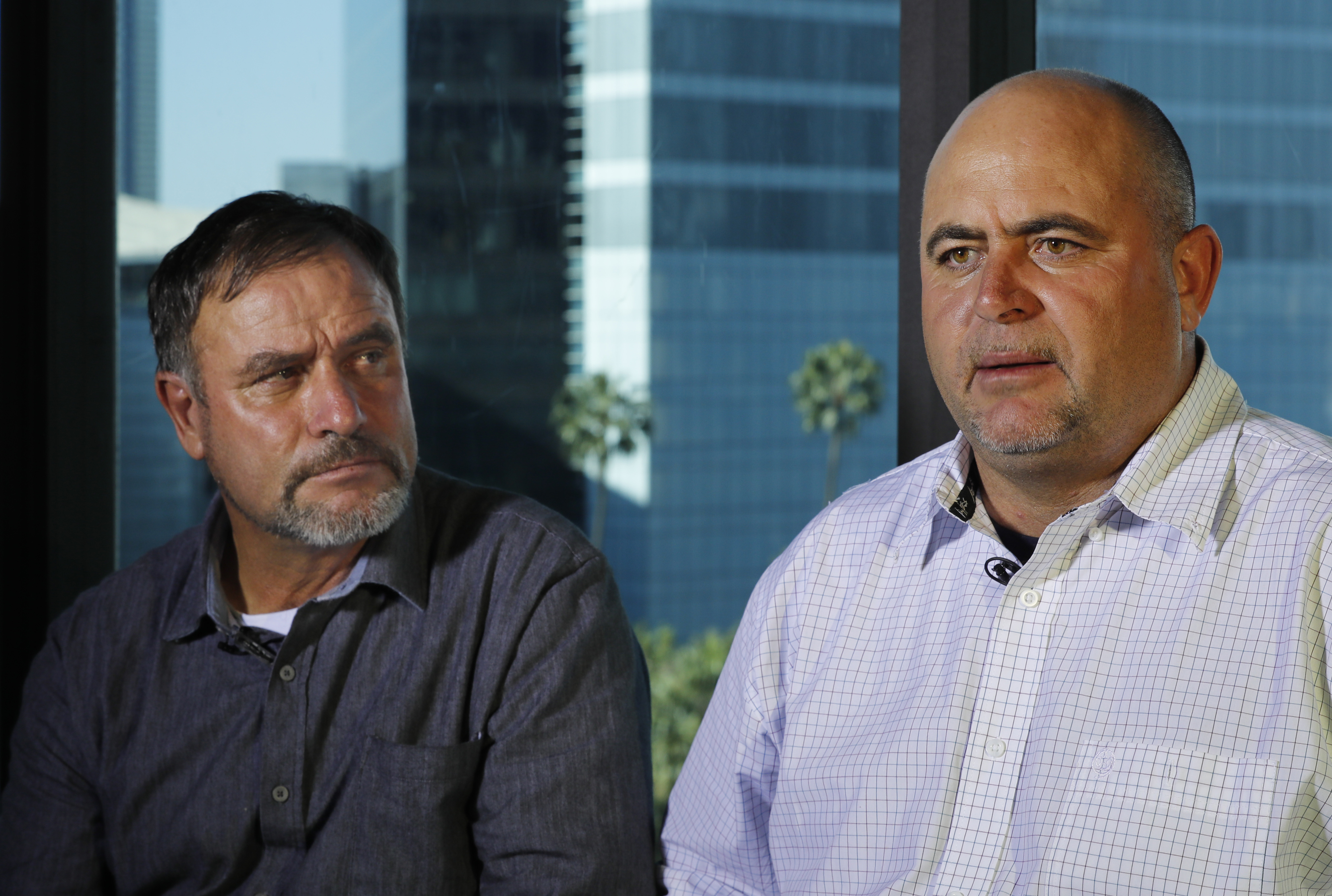 The LeBaron family believes the attackers intended to send a message.
"They wanted the gringos out of there," said Adrian LeBaron, the patriarch of the family. "To be in control of all that area. That's my absolute conclusion."
As difficult as it for family members to talk about the horrible loss they've suffered, they've come to Washington to tell their story because they want to make the case that the drug cartels operate like terrorists.
"They did it to cause terror," says Frank LeBaron, Adrian's nephew, who lives in Utah. "That's how they control things, through terror. In our perspective, they were very aware of what they were doing. What better way to show how ruthless they are than to attack the most innocent thing on this earth," he said.
President Trump initially backed the idea of designating the cartels as terrorists. But since then, he has said that his administration is temporarily holding off on the idea.
"All necessary work has been completed to declare Mexican Cartels terrorist organizations. Statutorily we are ready to do so," Trump wrote on Twitter last week.
All necessary work has been completed to declare Mexican Cartels terrorist organizations. Statutorily we are ready to do so. However, at the request of a man who I like and respect, and has worked so well with us, President Andres Manuel @LopezObrador_ we....

— Donald J. Trump (@realDonaldTrump) December 6, 2019
But at the request of Mexican President Andrés Manuel López Obrador, Trump said, "we will temporarily hold off this designation and step up our joint efforts to deal decisively with these vicious and ever-growing organizations!"
Critics on both sides of the border say it would be a mistake to designate drug cartels as terrorist organizations.
"I certainly understand the anger and outrage of families of victims, whether they be American or Mexican," said Roberta Jacobson, a former U.S. diplomat who served as U.S. ambassador to Mexico from 2016 to 2018. "But this is not an effective tool to go after this kind of crime."
Jacobson said the Trump administration already has other tools to combat drug cartels, including money laundering charges. And she cautions that the terrorism designation is deeply unpopular in Mexico because there is a widespread belief that it would be used to pave the way for U.S. military intervention there. That could jeopardize the cooperation of the Mexican government in the fight against cartels.
"Mexico will absolutely reject any kind of military action and become a fierce opponent of what you're trying to do instead of an ally," she said.
The terrorism designation also could undermine the Trump administration's immigration policies by sparking a new wave of Mexican migrants seeking asylum protection in the U.S. — at a time when the Trump administration has been working to stop the flow of asylum-seekers crossing the southern border.
Moreover, the designation would create a situation in which the U.S. government is sending asylum-seekers into "terrorist"-controlled territories. Tens of thousands of migrants fleeing persecution have been forced to wait in Mexican border towns for their day in U.S. immigration courts under a Trump administration policy known as "Remain in Mexico."
Still, the LeBaron family argues that the Mexican people would welcome U.S. assistance in the fight against the cartels.
"Our No. 1 position is that the sovereignty of Mexico must be respected," Bryan LeBaron said. "But I absolutely would welcome military aid, special ops especially, special missions. We need that to be able to go after these guys. It has been proven over and over that Mexico cannot handle this issue alone. It's an international crisis, and it will absolutely require an international solution."

Copyright 2019 NPR. To see more, visit https://www.npr.org.
ARI SHAPIRO, HOST:
Seven Democratic presidential candidates qualified for next week's debate in Los Angeles. Now there's a chance that zero of them will show up. There's a labor dispute between food services workers and the contractor who employs them at Loyola Marymount University, which is hosting the debate. NPR political reporter Juana Summers is following the story and is here in the studio.
Hi, Juana.
JUANA SUMMERS, BYLINE: Hey there.
SHAPIRO: Start by explaining the labor dispute at the heart of this. What's going on?
SUMMERS: So Unite Here Local 11 represents about 150 food service workers at Loyola Marymount, and the university subcontracts its food service operations to a company called Sodexo. Now, the union leaders say they've been in negotiations with Sodexo since March and that workers started picketing on campus last month. I spoke to one of Unite Here 11's co-presidents, and she told me that Sodexo abruptly canceled negotiations with them last week. So the union then reached out to presidential candidates, as well as the Democratic National Committee, to tell them that they plan to picket the same day that Democrats were set to take the debate stage.
SHAPIRO: And what did Sodexo say about this?
SUMMERS: We did hear back from a spokesperson from them a little bit ago, and I want to read you their statement. They say that Sodexo is 100% committed to reaching an agreement and any statement that we have left the bargaining table is not accurate. We've been negotiating in good faith since December of last year with the goal to reach a new collective bargaining agreement that is equitable for everyone, including our employees. And we still intend to achieve such agreement. That's Sodexo's spokesperson. But it's important to point out this is not the first time that Democrats' debate plans have been interrupted due to a labor dispute. This same debate was actually supposed to originally have been taking place at the University of California in Los Angeles, but those plans were scrapped because of stalled negotiations between the University of California system and a local union.
SHAPIRO: All right. Well, last night was the deadline to qualify for the debate. Now all the candidates who made it are threatening to boycott. So what have you been hearing from their campaigns today?
SUMMERS: Yeah, that's right. So the first candidate out the gate was Massachusetts Senator Elizabeth Warren. And in a tweet, she said that the DNC should find a solution that lived up to Democrats' commitment to fight for working people. And she made clear that she would not cross the picket line, even if it meant missing that debate. And pretty quickly after that, we heard from all of the other candidates. Bernie Sanders, Andrew Yang, Joe Biden, Pete Buttigieg, Tom Steyer, Amy Klobuchar - seven candidates in total, all saying they will not cross that picket line.
SHAPIRO: So moderators might be debating amongst themselves.
SUMMERS: (Laughter).
SHAPIRO: How important is the union involved in this dispute, Unite Here?
SUMMERS: It is actually a really powerful and important union. Unite Here is the national umbrella organization for the powerful culinary union in Nevada. And if you recall, Joe Biden, Elizabeth Warren and Bernie Sanders were all in Las Vegas this week speaking with Unite Here union members at town halls. And the fact that they're investing that much time goes to show just how much clout this group has. For - in Nevada, the culinary union is arguably the most powerful labor union in the state, and it's home to about 60,000 members. So an endorsement from a group like that could mean victory in Nevada.
SHAPIRO: Yeah. You mentioned that Elizabeth Warren sort of laid this at the feet of the DNC. What are they saying about it?
SUMMERS: We got a statement from Xochitl Hinojosa, who is a spokeswoman from the DNC. And in that statement, she says that the DNC and Loyola Marymount - they just learned about this issue earlier today, that while the university is not a party to the negotiations between Unite Here and Sodexo, DNC chairman Tom Perez would absolutely not cross a picket line and would not expect their candidates to either. They say they're working with all the stakeholders involved. But to kind of cut to the chase here, we don't actually know what's going to happen. And the DNC doesn't have a lot of time to resolve this. This debate is scheduled for next Thursday, so that means they have less than a week to figure out some sort of an agreement that - to either take this debate somewhere else or to find an agreement between these two parties so the Democratic candidates feel comfortable being able to go there and debate and not cross a picket line.
SHAPIRO: NPR's Juana Summers, thank you.
SUMMERS: Thank you. Transcript provided by NPR, Copyright NPR.